KONE Vietnam: 10 years of developing as the world's leading elevator brand
KONE Corporation, press release, January 20, 2019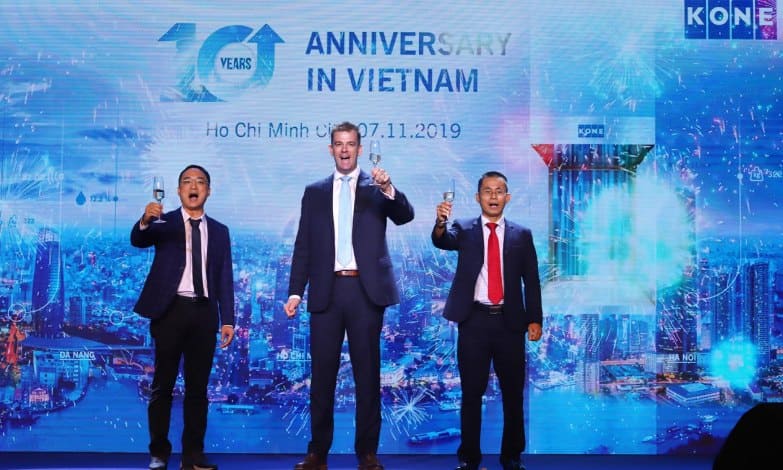 10 years officially put KONE's name on the map of Vietnam elevator and escalator market with 3 large offices present in all 3 regions, making a mark in many projects spanning North - Central – South. They have been making continuous efforts to bring the best People Flow solutions to Vietnamese people. As the leading provider of solutions for safe, efficient and smooth flow of people in urban environments, KONE is poised to play a major role as a partner in the development of the Vietnamese market, which has one of the highest potential in Asia.
10 years of growth in Vietnam
Over 100 years of establishment and development, responsible for the operation and maintenance of more than 1 million lifts and escalators worldwide, KONE is not only known as a leading brand in the world elevator and escalator industry, It is also one of the big corporations that prioritize exploring and expanding business in new and potential markets.
KONE officially entered the Vietnam market with its first office established in Ho Chi Minh City in the year of 2009, before going on to open its second and third offices in Hanoi and Danang in the year 2016 and 2018 respectively. This expansion of KONE's physical infrastructure in Vietnam exhibits KONE's commitment to grow with the market. These offices provides a platform for KONE to provide the best service from KONE Vietnam to local customers, and also helps KONE to develop a deeper connection and relationship with them.
In parallel with the internal development of facilities and human resources, KONE Vietnam has grown from strength to strength across the 3 regions. Notable customer who have chose to partner with KONE include 5-star hotels and resorts such as Ho Tram Grand Strip, JW Marriott Hanoi, Le Meridien Saigon, Inter Continental Nha Trang, Hilton Da Nang or Masteri Thao luxury apartments. Dien, Sunrise City, Diamond Flower,
Contributing to the future of Vietnam
Aside from providing the best people flow solutions, KONE Vietnam has also invested in the training and developing the skills and knowledge of the youth. This is shown through the cooperation between KONE Vietnam and Ly Tu Trong College in Ho Chi Minh City, with the first KONE Academy in Vietnam launched in June last year. The training center provides technical training courses for KONE staff and students of Ly Tu Trong, with the aim of developing a skilled workforce for the industry in Vietnam.
With an eye on the future, KONE Vietnam has also introduced the latest in the line of KONE's innovations, KONE 24/7 Connected Services, a solution designed to help customers meet the challenges brought on by urbanization and technological disruption. 24/7 Connected Service utilizes Artificial Intelligence and Internet of Things (IoT) to enable predictive maintenance, enhancing the safety and reliability of KONE products. For KONE elevator and escalator users, this means a safer, smoother and more efficient experience.
Operating in a fast growing market inevitably presents many challenges. However, with the strategic investments made over the past 10 years, KONE is well positioned to play the part of an investor and partner in the continuous growth of Vietnam, to continue providing the safe, smooth and efficient people flow solutions for all users.
About KONE
At KONE, our mission is to improve the flow of urban life. As a global leader in the elevator and escalator industry, KONE provides elevators, escalators and automatic building doors, as well as solutions for maintenance and modernization to add value to buildings throughout their life cycle. Through more effective People Flow®, we make people's journeys safe, convenient and reliable, in taller, smarter buildings. In 2018, KONE had annual net sales of EUR 9.1 billion, and at the end of the year over 57,000 employees. KONE class B shares are listed on the Nasdaq Helsinki Ltd. in Finland.
www.kone.com